COMMANDER JEREMY D. BRAUN, USN
Executive Officer, NROTC Unit Tulane University. Email
Image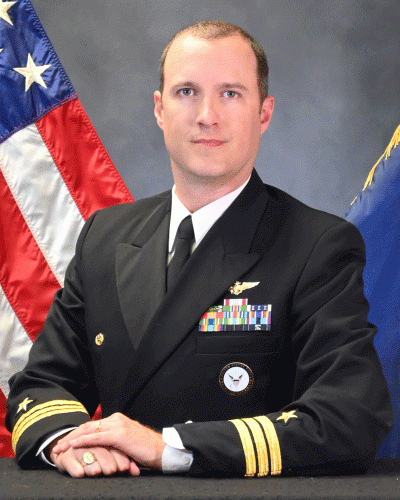 Commander Jeremy David Braun "J.D." is a native of Chatham, Virginia. After graduating Hargrave Military Academy in 2000, he attended the University of Virginia to pursue his degree in History. Upon graduation and commissioning through the ROTC program in 2004, he initiated flight training in Pensacola, Florida. Additional stints with VT-27 and HT-18 enabled him to earn his Aviator wings in 2006 and subsequent assignment to AWSTS for final training on the MH-53E helicopter.
His first squadron tour was with HELMINERON FOURTEEN (HM-14) in Norfolk, VA to conduct Airborne Mine Countermeasures (AMCM) and logistics support, including deployments to Iwakuni, Japan and Manama, Bahrain. Following the earthquake in Haiti in 2010, he embarked as part of Operation CARING RESPONSE which provided humanitarian aid and medical support to the devastated nation.
After transition to the MH-60S, he served as an Operational Test Pilot with AIRTEVRON ONE (VX-1) in Patuxent River, MD from 2011 to 2014. He was selected as Test Director for the Airborne Laser Mine Detection System (ALMDS) program and supported Airborne Mine Neutralization System (AMNS) developmental testing efforts.
He next led the N-5 Plans Division for the MCMRON SEVEN staff in Sasebo, Japan from 2014 until 2016. He oversaw planning for nine multi-national MCM exercises in the 7th Fleet AOR and helped forge new working relationships with the Japanese Maritime Self-Defense Force and Republic of Korea Naval Forces.
Returning back to HM-14 for his Department Head tour from 2016 to 2018, he served as the Administration Officer, Officer-in-Charge of Detachment 2A Korea, and Maintenance Officer. The squadron earned two consecutive Battle "E" awards during his tenure.
He recently completed his Joint staff tour with U.S. European Command in Stuttgart, Germany in February 2021, serving as a Levant section operations planner and Special Assistant to the Director of Operations (J-3). He assumed duties as NTAG Commanding Officer in February 2022.
Cmdr. Braun has flown over 1350 flight hours aboard the MH-53E and MH-60S with experience in all of the currently fielded AMCM systems. He is married to Aileen Roehl from Heidelberg, Germany, who worked for five years as a Principal modern dancer in the Paul Taylor Dance Company in New York City. Their son, Nico, was born in August 2020.